Headmaster
Albus Percival Wulfric Brian Dumbledore
Order of Merlin First Class
Grand Sorcerer
Chief Warlock of the Wizengamot
Supreme Mugwump of the International Confederation of Wizards

Deputy
Minerva McGonagall
Animagus

Board of Governors
| | |
| --- | --- |
| Librarian: | Madam Irma Pince |
| Nurse: | Madam Poppy Pomfrey |
| Caretaker: | Argus Filch [Squib] |
| Keeper of the Keys & Grounds: | Rubeus Hagrid [Half-giant] |
| Gamesmistress: | Madam Hooch |
| | |
| --- | --- |
| Arithmancy: | Professor Vector |
| Astronomy: | Professor Sinistra |
| Care of Magical Creatures: | Professor Kettleburn [retired] |
| | Rubeus Hagrid |
| | Professor Wilhelmina Grubbly-Plank [Substitute] |
| Charms: | Professor Flitwick |
| Defense against Dark Arts: | Professor Quirrell [deceased] |
| | Gilderoy Lockheart [disabled] |
| | Remus "Moony" Lupin [resigned] |
| | Bartemius Crouch, Jr. [souless]* |
| | Dolores Jane Umbridge [Ministry of Magic appointee] |
| | Professor Severus Snape |
| Divination: | Professor Sibyll P. Trelawney |
| | Firenze [Palomino centaur] |
| Herbology: | Professor Pomona Sprout |
| History of Magic: | Professor Binns [Ghost] |
| Potions: | Professor Severus Snape |
| | Professor Horace Slughorn |
| Transfiguration: | Professor Minerva McGonagall |
* Crouch was disguised as Alastor "Mad-Eye" Moody, a retired Auror.
All examinations are administered by:
Wizarding Examinations Authority
Professor Griselda March, Head
Ordinary Wizarding Level [OWL]: Given at the end of the Fifth Year, OWLs are the standard final examinations for students who do not need or want advanced studies.
Nastily Exhausting Wizarding Test [NEWT]: Given at the end of the Seventh Year, NEWTs are the final examinations for the advanced courses taken during the two years after the OWLs. NEWTs are required for certain wizarding jobs, especially jobs in the Ministry of Magic.
Grading:
| Passing: | Failing: |
| --- | --- |
| O - Outstanding | P - Poor |
| E - Exceeds Expectations | D - Dreadful |
| A - Acceptable | T - Troll |
| Required: | Electives: [Third Year & after] |
| --- | --- |
| Astronomy | Ancient Runes |
| Charms | Arithmancy |
| Defense against the Dark Arts | Care of Magical Creatures |
| Herbology | Divination |
| History of Magic | Muggle Studies |
| Potions | |
| Transfiguration | |
| Broomstick Flying [First Year only] | |
| | |
| --- | --- |
| The Standard Book of Spells | Miranda Goshawk [seven book series] |
| A History of Magic | Bathilda Bagshot |
| Magical Theory | Adalbert Waffling |
| A Guide to Transfiguration | Emeric Switch [three book series] |
| One Thousand Magical Herbs and Fungi | Phyllida Spore |
| Flesh-Eating Trees of the World | |
| Magical Drafts and Potions | Arsenius Jigger |
| Advanced Potion Making | Libatius Borage |
| Fantastic Beasts and Where to Find Them | Newt Scamander |
| The Monster Book of Monsters | |
| The Dark Forces: A Guide to Self-Protection | Quentin Trimble |
| Defensive Magical Theory | Wilbert Slinkhard |
| Confronting the Faceless | |
| Home Life and Social Habits of British Muggles | Wilhelm Wigworthy |
| Unfogging the Future | Cassandra Vablatsky |
| The Dream Oracle | Inigo Imago |
| Numerology and Grammatica | |
The Gilderoy Lockhart books are no longer being used.
One plain pointed hat [black]
Three sets of plain work robes [black]
One winter cloak [black with silver fastenings]
One set of formal robes [fourth year and above]

Note: Name tags must be attached to all clothing.

One wand
One telescope
One set of brass scales
One cauldron [pewter, size 2]
One set of phials [glass or crystal]
One standard set of student's Potions ingredients
One pair of protective gloves [dragon-hide or equivalent]
Students may bring one of the following: an owl, a cat, OR a toad.
Students may NOT bring a broomstick until their Second Year.
Beginning in the Third Year, students may visit Hogsmeade on specified days IF they have a signed permission form on file.
The Triwizard Cup, the symbol of victory in the quinquennial Triwizard Tournament, currently resides at Hogwarts as a result of the efforts of Cedric Diggory and Harry Potter in the last tournament.

Diggory and Potter tied with each other while besting Fleur Delacour of Beauxbatons Academy and Viktor Krum of Durmstrang Institute.
Hogwarts, Hogwarts, Hoggy Warty Hogwarts,
Teach us something please,
Whether we be old and bald
Or young with scabby knees,
Our heads could do with filling
With some interesting stuff,
For now they're bare and full of air,
Dead flies and bits of fluff,
So teach us things worth knowing,
Bring back what we've forgot,
Just do your best, we'll do the rest,
And learn until our brains all rot.

Sung to the tune of your choice.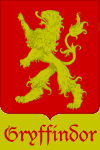 Founder: Godric Gryffindor
Head: Minerva McGonagall
Ghost: Sir Nicholas de Mimsy-Porpington ("Nearly Headless Nick")
COURAGE
| | | |
| --- | --- | --- |
| Euan Abercrombe | Angelina Johnson ² | Dean Thomas |
| Katie Bell | Andrew Kirby | Kenneth Towler |
| Lavender Brown | Neville Longbottom | Fred Weasley ² |
| Colin Creevy | Natalie McDonald | George Weasley ² |
| Dennis Creevy | Parvati Patil | Ginny Weasley |
| Seamus Finnigan | Harry James Potter | Percy Weasley ² |
| Vicky Forbisher | Jack Slopes | Ron Weasley ¹ |
| Hermione Granger ¹ | Alicia Spinnet ² | Oliver Wood ² |
1. Prefect in Book 5
2. Left School by Book 6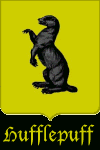 Founder: Helga Hufflepuff
Head: Pomona Sprout
Ghost: "Fat Friar"
DILIGENCE
| | | |
| --- | --- | --- |
| Hannah Abbot ¹ | Emma Dobbs | Zacharias Smith |
| Susan Bones | Justin Finch-Fletchly | Summerby |
| Eleanor Branstone | Ernie Macmillan ¹ | Summers |
| Owen Cauldwell | Laura Madley | Kevin Whitby |
| Cedric Diggory ² | Eloise Midgen | Rose Zeller |
| Harold Dingle | Sally-Anne Perks | |
1. Prefect in Book 5
2. Deceased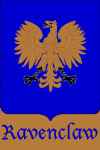 Founder: Rowena Ravenclaw
Head: Professor Flitwick
Ghost: "Grey Lady"
INTELLIGENCE
| | | |
| --- | --- | --- |
| Stewart Ackerly | Penelope Clearwater ² | Luna Lovegood |
| Terry Boot | Michael Corner | Morag MacDougal |
| Bradly | Roger Davies | Moon |
| Mandy Brocklehurst | Marietta Edgecombe | Padma Patil ¹ |
| Eddie Carmichael | Fawcett | Orla Quirke |
| Chambers | Anthony Goldstein ¹ | Lisa Turpin |
| Cho Chang | Daphne Greengrass | |
1. Prefect in Book 5
2. Left School by Book 6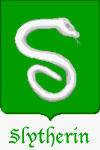 Founder: Salazar Slytherin
Head: Severus Snape
Ghost: "Bloody Baron"
CRAFT
| | | |
| --- | --- | --- |
| Malcolm Baddock | Marcus Flint ² | Pansy Parkinson ¹ |
| Miles Bletchley | Gregory Goyle | Graham Pritchard |
| Bole ² | Terence Higgs | Adrian Pucey |
| Millicent Bulstrode | Draco Malfoy ¹ | Warrington |
| Vincent Crabbe | Montague | Blaise Zabini |
| Derrick ² | Theodore Nott | |
1. Prefect in Book 5
2. Left School by Book 6
Harry Potter *
Instructor
Gryffindor
Hufflepuff
Ravenclaw
Katie Bell
Parvati Patil
Hannah Abbot
Terry Boot
Lavender Brown
Alicia Spinnet
Susan Bones
Cho Chang
Colin Creevy
Dean Thomas
Justin Finch-Fletchley
Michael Corner
Dennis Creevy
Fred Weasley
Ernie Macmillan
Marietta Edgecombe
Hermione Granger *
George Weasley
Zacharias Smith
Anthony Goldstein
Angelina Johnson
Ginny Weasley *
Luna Lovegood *
Lee Jordan
Ron Weasley *
Padma Patil
Neville Longbottom *
* Rescue Mission
| | | |
| --- | --- | --- |
| Millicent Bulstrode | Draco Malfoy | Warrington |
| Vincent Crabbe | Montague | |
| Gregory Goyle | Pansy Parkinson | |
| | |
| --- | --- |
| Dervish & Bangs [Wizarding equipment] | Owl Post |
| Gladrags Wizardwear | Scrivenshaft's Quill Shop |
| Honeyduke's Sweet Shop | Shrieking Shack |
| The Hog's Head [Pub, a bit dodgy] | Three Broomsticks [Pub, Madam Rosmerta] |
| Madam Puddifoot's Tea Shop | Zonko's Joke Shop |
Top of the Page