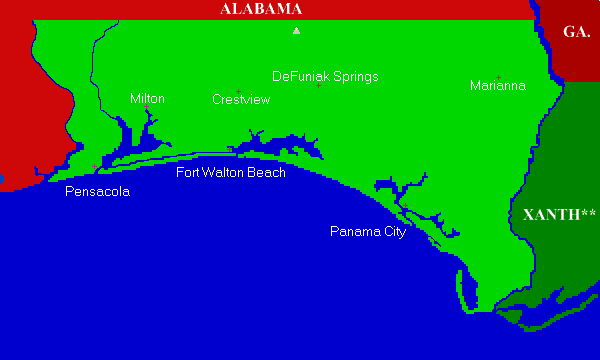 West Florida: A Local Viewpoint
---
Stretching from the Perdido River in the West to the Apalachicola River in the East, and from 31° North Latitude south to the Gulf of Mexico, West Florida is not always considered part of the same state as the peninsula (or Xanth, as Piers Anthony calls it in the popular series of fantasy books).

We are in the Central Time Zone. We have a different telephone area code than Xanth. We don't grow citrus fruits. Other than during political campaigns or at store openings, people wearing strange costumes are stopped by the police.

We are the "mountainous" area of the state, with the State's highest peak located in northern Walton County, almost on the Alabama border. It may not be impressive at 345 feet, but it does explain why Alabamans say that if you head south into Florida "it's all downhill".

This area was settled along two lines that merge at Pensacola: the coast, and an inner line approximately 30 miles south of the Alabama border.

The inner line was settled first with the building of the railroad to facilitate harvesting of our pine forests. While paper has replaced lumber and shipbuilding as the prime user of the pines, the harvesting continues. The railroad was paralleled by U.S. Route 90, and then Interstate 10.

The coastal corridor was settled later to take advantage of our seafood and recreational resources. Many of the original coastal settlers came here precisely because it was almost impossible to reach without a boat. As we say around here: "they weren't looking to find anything, they were looking not to be found."

As the railroad corridor was the original population center of West Florida, most of the county-level government is found in this corridor. This creates problems, as the mass of recent population growth is along the coast. The problems are exacerbated by the lack of north-south roads in the area, the higher assessment of property value near the coast, and the taxes generated by the coastal tourist industry.

It has fostered a local, somewhat sarcastic, humor among the coastal dwellers regarding the rural nature of those who live inland:


(Crestview is an inland town and the county seat of Okaloosa County.)

"They had to cancel drivers' education in Crestview... the mule died."

"I was going to buy a house in Crestview... I could have lived without electricity, but I had my heart set on indoor plumbing."


---

Pensacola Flags: The Vexing Vexillology of the Fiesta of Five Flags.

Local Links: Links to local chambers of commerce and other sources.

Hurricanes: Information and Links about a local weather phenomenon.

Cinco Bayou: A brief look at my home town.
---