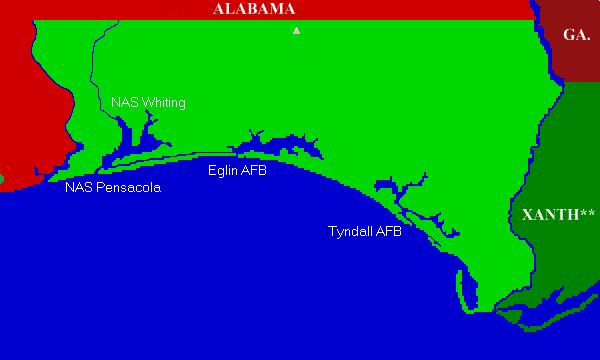 West Florida: Local Military
---
Naval Air Station Whiting provides primary fixed- and rotary-wing pilot training for the Navy, the Air Force and many foreign countries.

Naval Air Station Pensacola, "Cradle of Naval Aviation", is the home of the Navy's flight demonstration team, the Blue Angels, and the Museum of Naval Aviation. It is the largest aviation training site in the Navy. The training covers all aviation specialties and involves Navy, Air Force, and foreign students.

Eglin Air Force Base is the largest military facility in the world. It houses the Air Force center for testing and developing new weapons, a tactical fighter wing, and, at the facilities on Hurlburt Field, the Special Operations Command.

Explosive Ordinance Disposal training for the Air Force and the Navy is tucked away in a corner of Eglin, while Army Rangers learn wetlands operations deep in the woods, swamps, and creeks on this massive facility.

Tyndall Air Force Base houses a wing of F-15's for advanced pilot training. Recently the F-22 Raptor has been added to Tyndall's inventory and the base will be the primary point of integration for the new aircraft.

While newcomers in Gulf Breeze, near Pensacola, have created a hot spot for UFO reports, if an actual alien spacecraft landed in the center of Fort Walton Beach, the police would call Eglin and tell them to remove their latest experiment from the road.

This is not an area for people worried about "black helicopters". The Special Operations aircraft (dark gray, not really black) fly over at low altitude most nights.

When the space shuttle lands in California, it (atop a modified 747) stops at Eglin on the way back to the Cape.

This is a must see area for aviation enthusiasts. The new, unusual, manned and unmanned, domestic and foreign, are commonplace in our skies.


---

Military Service : A graphics look at my military service.
---