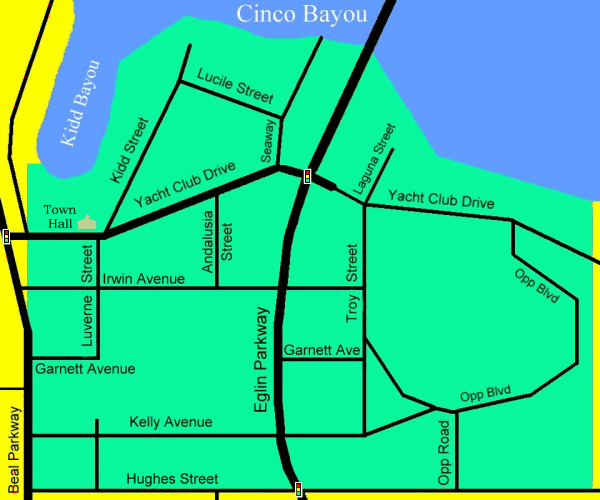 Town of Cinco Bayou
---
Surrounded on three sides by the city of Fort Walton Beach and on the fourth by water, the town of Cinco Bayou is a pretty nice place to live.

With a total area of just over 110 acres (44.6 hectares), walking is the best way to get around town, and a bicycle is considered rapid transit.

The government is a Mayor and five Councilpeople, who make fifty dollars for every meeting they attend. The Mayor gets an extra fifty to take care of things between meetings. They serve for two years, but we have an election every year for half of the positions, rather than take the chance of having everyone newly elected.

We have three employees: the Manager, the Secretary, and the Maintenance man. They make a living wage and have health insurance, because the town has been in the black since it was founded in 1950.

In spite of being a separate political entity, the Postal Service insists on lumping us in with Fort Walton Beach. They complain that we are too small for our own zip code.

The town has three parks on the water, a nature preserve (which explains the odd shape of Opp Boulevard), and a boat launch.

The name comes from an attempt to add a little class to the area. The body of water from which the name is derived is approximately five miles long. It was originally called Five-mile Bayou. Land speculators changed the name to Cinco Bayou, Cinco being the number five in Spanish.

Located in Okaloosa County at 30° 25' 20" North by 86° 36' 37" West, approximately 350 people live in about 210 housing units.

There's room enough for three banks, three gas station/convenience stores, three restaurants (Chinese, Italian, Thai), three fast food franchises, and a KMart.


---

Return to West Florida
---